Preventative dental care is one of the most important services we offer at our dental practice. This type of dental care means avoiding gum disease, cavities, enamel wear, etc. Having regularly scheduled examinations is important to reduce risk of dental decay and periodontal disease. We do the following dental exams:
Comprehensive Examination – Full examination of all areas of your mouth, including teeth, gums, tongue, palate, cheeks, lips and even your jaw joint. We will look for any disease that is present, or at high risk of occurring—such as cavities or gum disease—and discuss how to treat your smile.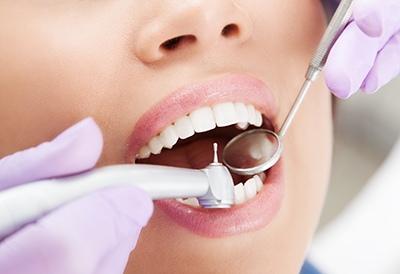 Routine dental cleanings/oral health – Routine teeth cleanings and oral exams are recommended every six months. During the appointment, we will take any necessary x-rays, clean your teeth, and provide a comprehensive exam, screening for oral cancer and gum disease.
Oral Hygiene instruction and review – As your mouth and health change over time, we provide detailed instructions and recommendations for creating and maintaining a healthy mouth and beautiful smile.
Digital x-rays – X-rays let us see areas that a visual examination cannot, such as in between teeth and within the jaw bone or jaw joint. Different types of x-rays are recommended at different intervals, but all our x-rays are digital, which means they're faster, and expose you to less radiation than traditional x-rays.
Oral Cancer Screening – This is done as part of every examination performed in our office. An oral cancer screening is performed to identify early cancer and even pre-cancer of the mouth. Oral cancer can occur in any part of the mouth, and we aim to detect the legions early when the opportunity for a cure is the greatest. Ask us about an advanced oral cancer screening with Vizilite.
Fluoride – Since the 1950's we've known that fluoride can strengthen teeth and reduce cavities on biting surfaces as well as exposed roots. We offer professional fluoride applications for patients of all ages.
Sealants – Sealants can be placed on the biting surface of teeth that have pits and grooves. After application, the sealant helps to prevent decay in those pits and grooves, keeping the possibility of cavities much lower.